Charles Joseph La Trobe, from wherever he now watches, should be eternally grateful that John Barnes chose to be his biographer.
—Dr Andrew Lemon, former President of the Royal Historical Society of Victoria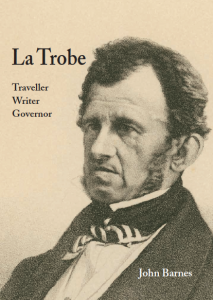 The American author, Washington Irving, described Charles Joseph La Trobe (1801-75), as 'a man of a thousand occupations'. This talented Englishman of Huguenot descent, who became the first Governor of Victoria, was a naturalist, writer, artist, and an enthusiastic tourist, who travelled through Switzerland, Italy, Mexico, and the USA, where he encountered Amerindian tribes and hunted buffalo.
An untypical and little understood colonial administrator, La Trobe spent nearly 15 years in Melbourne, during which he piloted the young colony through the upheaval of the gold rushes.
Based on extensive new research, this comprehensive biography of a cultured and deeply religious man of principle includes some of his own evocative watercolours and extracts from personal notebooks and letters.
Reviews
Book review by Dr Andrew Lemon
Hardback, 384pp, RRP $59.95