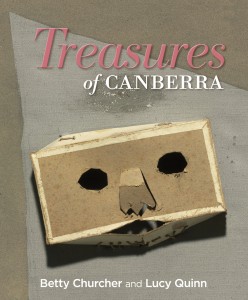 Betty Churcher and Lucy Quinn Put Canberra on the Global Map
This book highlights Canberra's arrival as a world cultural centre, with collections of art and artefacts that are exceptional in range and intensity. It is a celebration of Australian art, and Australia's history.
Former Australian National Gallery director Betty Churcher is a household name, thanks also to her books and TV shows. She has collaborated with young Canberra artist Lucy Quinn to select outstanding works displayed in the national capital's museums, galleries and archives. This book is one of the few to feature art and artefacts from all of Canberra's national collecting institutions.
Treasures of Canberra showcases famous works like Jackson Pollock's "Blue Poles" and John Webber's portrait of Captain Cook, alongside little known wonders such as the sketchbook of Oscar, an Aboriginal station hand in colonial north Queensland. It also includes the relics of Australia's journey as a nation, including Phar Lap's heart, the submarine that attacked Sydney and Azaria Chamberlain's dress.
There are books like this already, about famous cities of Europe or Asia, but Canberra is the first Australian city to be singled out for the same treatment. Although the national capital has only existed for 100 years, it has drawn in so many treasures that the challenge for the authors was not finding material, but narrowing down a selection from the riches on offer. As much as this book celebrates fine art, it also celebrates the Australian story.
 RRP $69.95